Ensuring the safety of research samples sometimes worth millions of dollars is critical, but mishaps still do happen. In a recent incident that resulted in the destruction of decades of groundbreaking research, a lab freezer containing vital samples was accidentally shut off by a cleaner. The catastrophic consequences of this event highlight the critical importance of reliable and advanced storage solutions. At B Medical Systems we offer state-of-the-art Ultra-Low Freezers and cutting-edge software solutions such as °B Connected, designed to protect and preserve valuable research assets.
What happened?
According to a report from the BBC, an ultra-low freezer storing samples at a temperature of -80°C (-112°F) was mistakenly turned off by a cleaner due to an annoying alarm sound. The samples, which held immense research value and had the potential to advance solar panel development, were left unsalvageable, resulting in $1 million worth of damages. The temperature inside the freezer had allegedly risen by 50 degrees to about -30°C (-22°F) by the time researchers discovered the error and tried, unsuccessfully, to salvage the samples.
The Solution: B Medical Systems Ultra-Low Freezers and °B Connected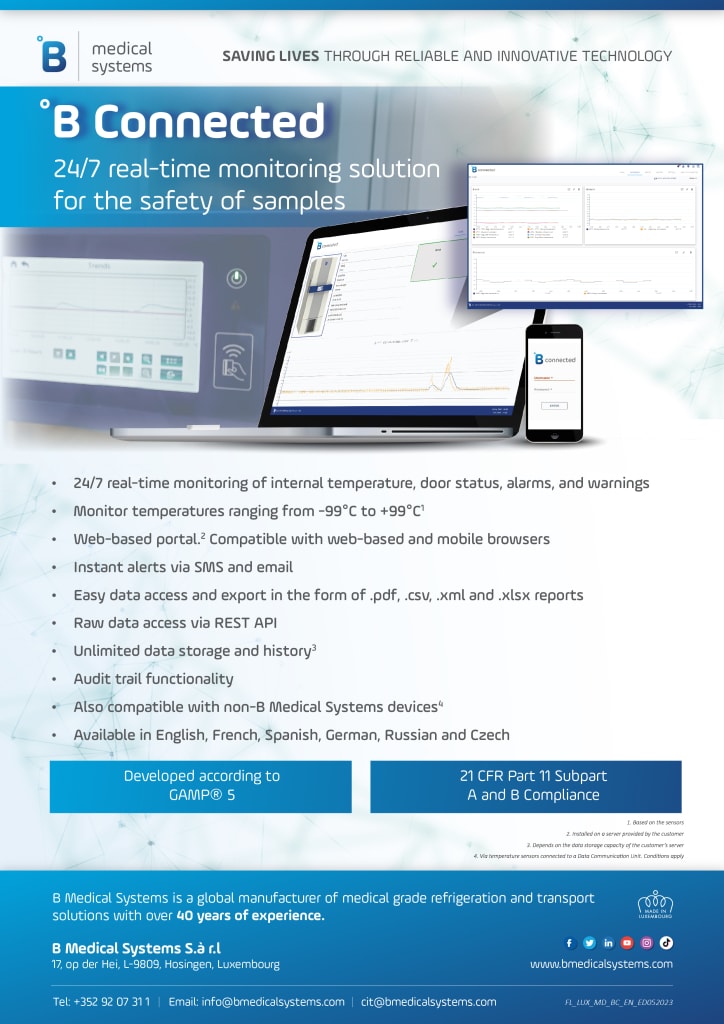 At B Medical Systems we completely understand the criticality of maintaining precise and consistent temperature conditions to safeguard valuable samples. Our Ultra-Low Freezers are engineered with cutting-edge technology and robust construction, ensuring optimal storage conditions for a wide range of research applications. Here's how our solutions can prevent similar incidents and protect valuable research:
Temperature Precision
Our Ultra-Low Freezers provide exceptional temperature stability, maintaining consistent temperatures even in challenging environments. Advanced cooling systems and efficient insulation minimize temperature fluctuations, mitigating the risk of damage to sensitive samples.
Access Control
Access to critical materials should always be controlled so that only the people who are trained to handle them are able to do so. Our models feature extensive access control measures, including electronic door lock mechanisms and access via a password or NFC card.
Alarm Systems
Our medical cold chain solutions are equipped with intelligent alarm systems that promptly alert users to any temperature deviations. The alarms are models are equipped with are designed to be informative, easily distinguishable, and to be muted if they become disruptive.
Remote Monitoring Systems
With °B Connected, our innovative monitoring software solution, researchers can remotely check and manage their freezers in real-time. The software enables users to receive alarm notifications and access temperature logs ensuring continuous oversight and proactive response to any potential issue.
Preventing Future Mishaps: Proper Training and Support
While our Ultra-Low Freezers and the °B Connected software provide robust safeguards, it is crucial to emphasize the importance of proper training and awareness among all personnel involved in the handling and maintenance of scientific equipment. Employers should ensure that their staff receive comprehensive training on the operation and maintenance of freezers, with a particular focus on understanding alarm systems and their significance. Moreover, worst.case scenarios should be planned and rehearsed, so that everyone involved knows exactly what to do in an emergency situation. This incident serves as a reminder that adequate training and ongoing support are critical in preventing costly mistakes.
The unfortunate incident at the Rensselaer Polytechnic Institute highlights the immense value of reliable and advanced storage solutions in preserving decades of groundbreaking research.
Our Ultra-Low Freezers, complemented by the powerful °B Connected software, provide researchers with the confidence and assurance they need to protect their valuable samples. By investing in advanced technology and prioritizing proper training, we can prevent such incidents from occurring in the future and continue pushing the boundaries of scientific progress with unwavering dedication.