Vaccines have proven time and time again to be our most effective way to fight against a variety of pathogens such as bacteria and viruses. Thanks to vaccinations, diseases have seen a decline worldwide and some of them, such as smallpox, have even been completely eradicated. The challenge now is to ensure that people living in remote areas also get access to these life-saving medical products with reliable last mile medical cold chain equipment.
Global eradication campaigns are underway to soon end dracunculiasis (Guinea worm disease), yaws, malaria, and poliomyelitis (polio). For the latter, a milestone has been achieved in August 2020, when Africa was declared free of wild polio by the Africa Regional Certification Commission, making Afghanistan and Pakistan the last remaining countries with endemic cases.
These achievements have been possible not only because of the vaccines but also because of the immense efforts of governments, organisations, healthcare workers and entire communities which ensured that the vaccines could be given safely to the people.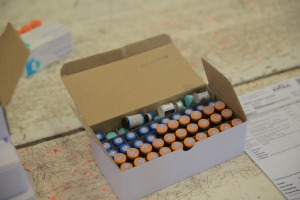 There is a lot of preparation that goes into a vaccination campaign: the vaccines need to be sourced and produced, healthcare professionals trained, vaccination centres organised, and a reliable cold chain set up. Such a complex initiative of course has its challenges. It is renowned for example that the most challenging part of any cold chain is the "last mile", the last effort needed to be able to reach the person requiring immunisation, which can be difficult if the patient is located in a remote area.
Medical cold chain equipment manufacturers such as B Medical Systems, the world-wide leader in the Vaccine Cold Chain industry, have created reliable solutions to make it easier for vaccines to be safely stored and transported to their target patient, but the last mile is still a phase in the vaccination campaign that presents many difficulties.
Creative solutions such as airlifts via helicopter or transport on top of camels have been tried to bring needed vaccines and cold chain equipment to remote populated areas, but these modes of transportation have their disadvantages, especially when they are being carried over large distances. For instance, passive vaccine transport boxes can only maintain a cold temperature for a certain time, after which the vaccines stored inside may be exposed to temperature fluctuations which may render them ineffective.
B Medical Systems and the Toyota Tsusho Corporation have entered a partnership to solve this problem. They created the first WHO PQS prequalified Refrigerated Vaccine Transport Vehicle, by incorporating a 396L storage vaccine refrigerator into a Land Cruiser '78.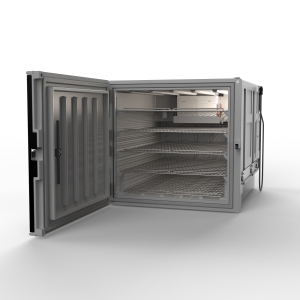 This innovative technology aims to ensure that the vaccines stored inside are always safe from temperature excursions by having the refrigerator powered by the car's batteries when the vehicle is on, and the ability to connect it to an external power supply when the vehicle is stationed. The refrigerator can keep the doses stored inside it at temperatures ranging between 2°C and 8°C, all the while protecting them from external factors such as high temperatures, light and humidity. Furthermore, the cooling solution is designed to provide a stable storage compartment for the vaccines, protecting them from any type of shock that they may incur during transport.
This active refrigeration solution can therefore not only always keep vaccines at the right temperatures, but also transport them on a resistant, field-tested vehicle designed to operate even on rough terrain.
B Medical Systems sees this flexible product as the future of last-mile cold chain equipment, and as a final solution to the main problems that have plagued this phase of vaccination initiatives for the past decades.